Proxy Sites – the Most Up-To-Date Proxy List on the Internet
List of Proxy Sites
Follow Our Feed on Twitter to Get New Proxy Sites Instantly
Our Twitter handle is ProxyBlast.

Follow us on Twitter and receive new proxies as soon as they are posted.
Subscribe to Our Email List to Get New Proxy Sites Every Day
To get the newest proxies in your email every day, just subscribe to our email list.
Once a day we will send you the list of new proxies which we have accepted into our list.
Subscribe to Our RSS Feed to Get New Proxy Sites Whenever You Want Them
Our RSS feed is available here.
Subscribe to our RSS feed and get new proxies delivered to your RSS reader
Bookmark this page to keep track of the newest and best proxy websites.
What are Proxy Sites?
A Proxy site is a web page which allows you to browse your favorite web sites — even though your access to those web sites might be blocked by a content filter.
If you find that you are blocked from your favorite websites, use one of these web proxy sites to get around the block.
How Proxy Sites Work
Proxy sites enable you to bypass your own Internet provider and browse through the proxy web site. All that you have to do is type the web site address you would like to visit in the form they provide, and start browsing. Once you keep browsing using that form, you are protected and your real IP address is not being logged.
A proxy is a web page that provides Internet users with the ability to browse websites that a content filter, such as WebSense or SmartFilter, may block. By using the proxy as the portal to the blocked site, it is possible to circumvent the work of whatever content filter is in place. At the same time, the proxy site also helps to mask the visit to the site, so that there is less evidence that the content filter was not successful in preventing the visit.
Why Use a Proxy?
One of the legitimate proxy site uses is to get around blocked content that may contain one or two words that the filter has identified as inappropriate for viewing. Many companies use filters to limit their employees' ability to spend time looking at web pages that are not related to job functions in some manner. This is usually accomplished with the use of key words that are programmed into the filter, which in turn blocks any page or site with those words present. While this blocks access to a number of sites that have nothing to do with work, they can also inhibit access to pages and glossaries that are designed to be helpful.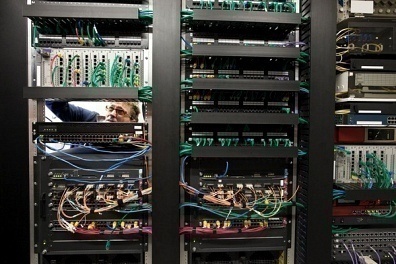 When this is the case, an employee may choose to use a proxy site to get around the block and be able to get to a page that he or she legitimately needs to view in order to accomplish a work related task. Since using a proxy site does not take much longer than using a browser window, it is much faster than calling technical support and trying to get authorization to remove a given site from the filter list.
Many totalitarian nations also use content filters to block their residents from finding information on the world wide web that the regime in power may not approve of. Residents of those nations can use proxy sites to access news and information from the free world.
Another advantage of using the proxy site is that the user's IP address is not logged. This helps to ensure the privacy and anonymity of Internet users.
Proxy Software
The two most popular pieces of proxy software on the Internet are PHPoxy and CGIProxy.
PHProxy
PHProxy is a lot more customizable and offers a lot more than CGIProxy, but the anonymity is not as good.
Here are the available options while using PHProxy:
Includes a mini URL form on every HTML page
Remove client-side scripting (i.e. JavaScript)
Accept HTTP cookies
Show images
Show referring website in HTTP headers
Use rotate13 encoding on the URL
Use base64 encoding on the URL
Strip meta HTML tags
Strip Website title
Store cookies for the current session only
Open URL in a new window
Some PHProxy instances may have been customized after the installation. These are just the default options. This is most probably all that one would need but by editing some of these abilities (e.g. enabling Client-Side Scripting), anonymity will be reduced and the original IP address will be viewable.
CGIProxy
CGIProxy is not quite as customizable, but offers full anonymity with Client-Side Scripting. This is a huge advantage.
Here are the available options while using CGIProxy:
No cookies
No scripts
No ads
No referrer
Show current form
This is not anywhere near as large as PHProxy's list, but it is good to know that the user is going to be completely safe and his/her IP is going to be completely hidden.
FAQs Related to Proxy Sites
Proxy Sites – the Most Up-To-Date Proxy List on the Internet

,